Our Dentists
Dr. Vineet Sidhu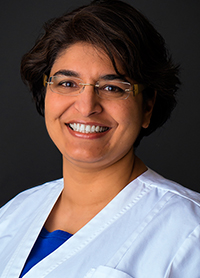 Dr. Vineet Sidhu has over 22 years of experience in dentistry. She finds her work very rewarding and considers helping her patients a privilege. She practiced in Brockville for several years before moving to Ottawa in 2009. She enjoys dentistry and is always willing to go that extra length and be proud of a job well done.
Understanding her patients is very important to her and she likes to listen to what they have to say so she can provide them make the best decision. Dentistry has advance so much over the years and Dr. Sidhu has a keen interest in keeping up to date with new technologies with continually education herself and her staff.
She has a strong interest in preventive dentistry and strives to help her patient's maintain a healthy smile for a lifetime. She strongly believes that prevention is better than cure and likes to work with her patients as a team to prevent dental problems. She likes to build strong relationships with her patients and will work extra-hours to accommodate dental emergencies.
Over the last seven years the team at Family Dental Care has grown and I want thank my staff. They are a great team and very supportive. Over the years I have striven to teach and lead them to support the level of care that I take pride in delivering to my patients. At the same time, I have learnt a lot from them and the love, care and support from my team has made Family Dental Care the facility it is today. I appreciate them very much and am very grateful for their dedicated service to our patients. It is a joy to come to work."
– Dr. Vineet Sidhu
Dr. Gustavo Azevedo
We welcome Dr. Gustavo Azevedo to our dental team. His enthusiasm for dentistry and high motivation for patient care makes him a perfect addition to our office. This will continue to allow us to service the increasing number of new patients, with the same high standard of care.   He also has a great sense of humour and his ability to help his patients relax and be comfortable is truly noteworthy. He will be available on Saturdays as well, thus providing further flexibility of appointment times for our patients. It is a real joy and pleasure to have him on our team.
Our Other Dentists
Dr. Isha Moza
Dr. Faiza Urooj
Dr. Bosky Singh
Our Dental Hygienists
Krystal
Farzaneh
Angelique
Laleh
Lara
Rest of Our Team
Dylan – Office Manager
Cindy – Receptionist
Julie – Receptionist
Luz – Dental Assistant
Maria – Dental Assistant
Zee – Dental Assistant
Zeinab – Dental Assistant