Our Dentists
Dr. Vineet Sidhu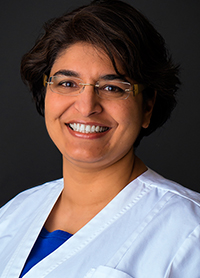 Dr. Vineet Sidhu has over 28 years of experience in dentistry. She finds her work very rewarding and considers helping her patients a privilege. She practiced in Brockville for several years before moving to Ottawa in 2009. She enjoys dentistry and is always willing to go that extra length and be proud of a job well done. Dr. Vineet Sidhu now also provides ortho treatment with clear braces (Invisalign).
Understanding her patients is very important to her and she likes to listen to what they have to say so she can provide them with the best decision. Dentistry has advanced so much over the years and Dr. Sidhu has a keen interest in keeping up to date with new technologies with continually educating herself and her staff.
She has a strong interest in preventive dentistry and strives to help her patients maintain a healthy smile for a lifetime. She strongly believes that prevention is better than cure and likes to work with her patients as a team to prevent dental problems. She likes to build strong relationships with her patients and will work extra hours to accommodate dental emergencies.
Over the last seven years the team at Family Dental Care has grown and I want thank my staff. They are a great team and very supportive. Over the years I have striven to teach and lead them to support the level of care that I take pride in delivering to my patients. At the same time, I have learnt a lot from them and the love, care and support from my team has made Family Dental Care the facility it is today. I appreciate them very much and am very grateful for their dedicated service to our patients. It is a joy to come to work."
– Dr. Vineet Sidhu
Dr. Anthony Bui
Dr. Anthony Bui was born and raised in Ottawa, Ontario. He attended the University of Ottawa where he earned a Bachelor of Health Sciences degree with a major in Kinesiology and a minor in Psychology.
Satisfying his desires to both travel the world and pursue a career in dentistry, Dr. Bui completed the Bachelor of Dental Surgery program (BDSG) with an honors degree from University College Cork, Ireland.
After undergoing training in Calgary and Fort McMurray, Dr. Bui decided it was time to return home to Ottawa. He is committed to building long-lasting relationships within the community by providing the highest standard of care to his patients, in a comfortable and relaxed environment. His focus is to collaborate with patients to formulate treatment plans tailored to the specific needs of each patient.
He is dedicated to staying up to date with superior continuing education and ongoing training focused on conservative and preventive dentistry. His patients really appreciate his kindness and excellence in providing dental care. He has a wide range of skills including preventive dentistry, Root Canal Therapy, Crown and bridge, orthodontic treatment with clear braces (Invisalign), and surgery including extracting wisdom teeth.
Dr. Bui is a fun person and, when he is not working, he enjoys seeking out adventure, experiencing different types of cuisine, playing sports, and spending time with friends and family.
Our Other Dentists
Dr. Isha Moza
Dr. Sydney Saikaly
Our Dental Hygienists
Krystal
Farzaneh
Angelique
Laleh
Lara
Rest of Our Team
Dylan – Office Manager
Cindy – Receptionist
Julie – Receptionist
Luz – Dental Assistant
Maria – Dental Assistant
Zee – Dental Assistant
Zeinab – Dental Assistant