Professional Pediatric Dental Services in Ottawa
Excellent oral health is essential for a child's development, and we are here to help you through all the steps! At our Family Dental Care Clinic, we have qualified and experienced child dentists in Ottawa to help you. We are delighted to care for kids from all over South and Downtown Ottawa. We strive to make this journey for your child a fun, rewarding, and less scary experience. We cater to the needs of all infants, children, and adolescents, and provide pediatric dental care to help them develop a happy and healthy smile.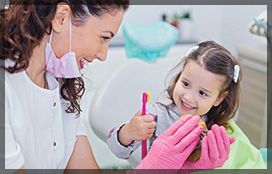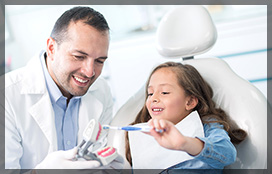 Child and Teen Dentistry
We take a conservative approach to dental care for kids based on each child's needs and recommend the best treatments for long-term oral hygiene.
Our Pediatric Services includes:
Preventative Dentistry
By focusing our time and effort on preventing dental problems, we can help your child develop strong teeth and gums to create a lifetime of healthy smiles. Our child dentist provides a preventative dental care program for children includes routine checkups and parent education.
Restorative Dentistry
Our restorative best dentist for kids typically comprises of procedures that aim to repair tooth damage. It also includes restoring the aesthetics and functions of your child's teeth.
Sedation Dentistry
Sedation dentistry for children involves using mild sedation during dental treatments. Our pediatric dentists typically use it during extensive procedures.
Dental Emergency
Emergency dental care for kids, provided by a child dentist, includes any immediate help to relieve a child's oral pain quickly. These services involve fixing the structural damage to a tooth and addressing other oral problems that could worsen if left untreated.
What We Can Do for Your Child
Early Dental Care
We firmly believe in starting children early with good dental hygiene and oral care. This is because early treatment helps to prevent problems affecting a child's oral health and overall well-being.
First Dental Visit
We recommend that a child's first dental visit be scheduled before their first birthday. We will strive to make it positive and fun for them and educative for you. This helps us to build trust with your child and put them at ease with our staff.
Prevention & Treatments
Our emphasis is on total preventive dental care for children and teens. We recommend regular checkups as well as continued oral health routines at home.
Oral Hygiene
Most dental disorders, such as tooth decay, are progressive, which is why it helps to treat them in the early stages. Our pediatric dentists can help recognize the symptoms of oral conditions and recommend reliable treatment options accordingly.
Book an Appointment with Our Pediatric Dentists in Ottawa
At Family Dental Care clinic, we have the best children's dentists in Ottawa to help your child. We understand that dental visits can cause anxiety in children, which is why we offer complete care and support.
We have a qualified team of dentists to understand and cater to your needs. If you want to schedule your child's first dental visit, please call us at 613-736-5000 to get in touch with our team in South Ottawa or at 613-627-3500 for our clinic in downtown. We'll be happy to help!