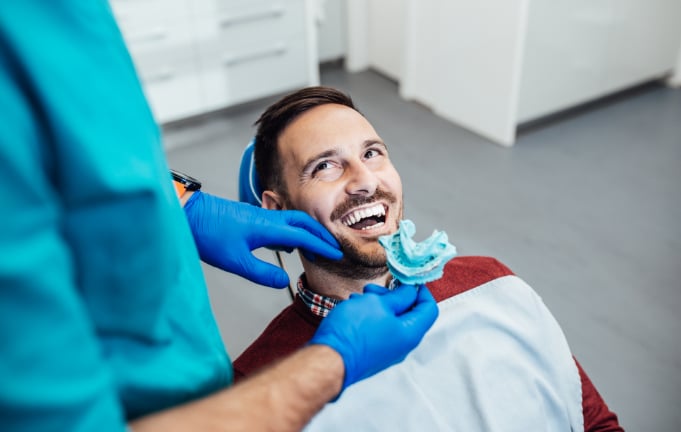 Recovering from an oral injury can be difficult when you feel your smile may never look the same again, but cosmetic dentistry in Ottawa can help!
Smiling is a natural response to many of life's experiences and is a core contributor to our mental and emotional health. When your smile becomes distorted beneath the impact of an oral injury, the road to recovery is more than healing on the outside. Instead, it presents several challenges to reestablish your confidence and self-esteem, but that is where cosmetic dentistry comes in!
Cosmetic dentistry affords many opportunities to create the smile of dreams, improving your overall quality of life significantly. Whether it's years of feeling uncomfortable or embarrassed about your smile or you recently had an accident, cosmetic dentistry can restore what was damaged and give you a smile to be proud of.
Here at Family Dental Care, we understand the importance of feeling confident about your smile, so we endeavour to transform not only how you look but how you feel as well!
Get in touch with us today for professional cosmetic dentistry in Ottawa!
Treatment for Tooth Discolouration.
Tooth discolouration is a common issue for many people, but it's not only caused by certain foods or drinks. Another cause of tooth discolouration is a broken blood vessel in the tooth pulp, which can significantly alter the appearance of teeth.
Fortunately, veneers afford an easy way to change your smile, offering a brighter and healthier smile. Veneers are thin porcelain shells attached to the front of the tooth and are a long-lasting solution for tooth discolouration.
Another option to rectify discolouration is professional whitening. Most adults will undergo a whitening procedure at some point, enjoying the many benefits of a brighter smile at any stage of life!
Treatment for Chipped and Fractured Teeth.
Sporting a chipped tooth can be challenging and embarrassing for many people, but cosmetic dentistry offers several restorative options. Veneers, crowns, and fillings can be used to replace and repair chipped and fractured teeth, affording a better appearance and tooth functionality.
Treatment for Missing Teeth.
Losing a tooth is never a pleasant experience. However, when you lose a tooth, it can sometimes be reattached, but this is not always possible. Fortunately, dental implants allow for tooth replacement, using crowns, bridges, or dentures that look, feel, and function as natural teeth.
Cosmetic dentistry in Ottawa provides the opportunity to create the smile you've always wanted. Whether you simply want a smile a few shades whiter or need to replace and repair damaged teeth, there is a solution for you!
Contact us today to schedule an appointment!