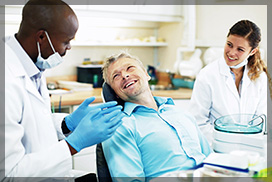 Whether you are new to the area or have a growing family, locating the best dentist in Ottawa can be challenging. Your dentist needs to be personable, professional, and qualified to perform the range of services you and your family need today and in the future. Taking into account the location, convenience, and the particularities of each dental office can make it difficult to know where to start. Follow the ten key considerations below or visit the dental office in Ottawa at Family Dental Care to simplify your search for a new dentist.
10 Factors that Will Help You Find a Dental Office in Ottawa
Testimonials & Portfolio: A little research can go a long way in learning about other patients' experiences and understanding the level of service provided. Ask friends, go online to read reviews, and check out the dental office's portfolio.
History & Experience: Look into the specialties, experience, and qualifications of the team that will be providing your dental care. The right dentist in Ottawa will have relevant experience and a history of providing great service with beautiful results.
Technology: Outdated tools and techniques can make for less comfortable and efficient dental services. Find a dental clinic that is committed to staying up to date with the latest technology and procedures while incorporating knowledge built through years of experience.
Services: Searching for a trusted dental professional is not easy and can take a lot of valuable time and energy. You don't want to have to repeat the process for different dental services or issues that arise. Inquire about oral surgery, cosmetic dentistry and other service options to ensure you and your family will enjoy a 'one stop shop' and/or convenient referrals.
Comfort: You should feel comfortable with your dental hygienists and dentists in order to build a rapport of honest, open communication. You and your children need to feel confident and comfortable asking questions about your dental health and hygiene. A good relationship with your dentist is the best way to start learning more about your teeth and your entire family's oral health development.
Convenience: Location is important, as well as hours of operation. Determine if a location nearby school, work, or home is the optimal one for your new dental office. Be sure to also look for a dental office that operates during hours that fit your schedule.
Payments: Your insurance, benefits, income, and budget should all be considered and discussed with your new oral healthcare provider. Convenient billing practices can make the difference between a convenient teeth cleaning and a stack of worrisome paperwork. Ask about payment plan options and insurance integration to understand the process.
Age & Compatibility: People have different dental concerns and requirements at different stages of their lives. Children require a focus on progression of jaw and tooth development, while elderly patients need services that focus on tooth decay, comfort, and tooth replacement. Work with a dentist that offers pediatric dentistry and find a dental clinic in Ottawa that can provide a lifetime of services. You need reliable and thorough dental services for every member of your family and every stage of your life.
Cleanliness: Visit in person to ensure the dental office in Ottawa is maintained to your standards, including cleanliness. Don't be afraid to inquire about the processes in place for cleaning dental instruments and surfaces in the space.
Front Office: Your communication and connection with the front office team is equally as important as the dental professionals in the clinic. They can help young patients feel more comfortable and will help you sort out scheduling and billing. Call and stop by in order to gauge the service level and flexibility of front office staff.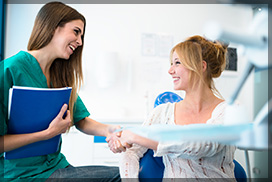 The team of dental professionals at Family Dental Care is here to provide supportive, dynamic, and flexible dental care. We welcome new patients of all ages and provide a wide range of dental health services. Contact our friendly team to learn more about how we could be your new dental clinic in Ottawa.
Visit the dentists at Family Dental Care today. Come by in-person or call us at 613-736-5000 to book your consultation or teeth cleaning.