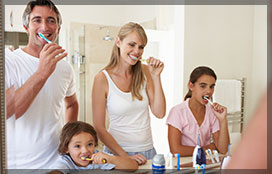 It is a commonly accepted among the majority of people that good habits begin at home. And when instilled at a young age, social graces such as table manners, proper etiquette and behaviour in public, respect for others/elders, and extending common courtesies will remain with these children well into adulthood and likely for their entire lives.
One of these good habits that can sometimes get overlooked, however, relates to proper dental care and hygiene.  Natural teeth, in a manner of speaking, may be analogous to a precious commodity since their loss, to any degree and at any age, can have a negative impact on one's health and quality of life; fortunately, such concerns and consequences can be alleviated or perhaps averted altogether through the combination of:
Good oral hygiene at home
Regular dental visits/check-ups
Establishing good dental care/hygiene practices early in life and continuing this diligence throughout childhood and adulthood will help in maintaining a healthy mouth, teeth, and gums.  In turn, this increases the probability of avoiding any/all of the following:
Tooth decay
Gum disease
Persistent bad breath
Mouth pain/discomfort
Chewing and nutritional issues
Self-confidence issues (smile-related)
Unwanted dental procedures/expenses
Risk of other health concerns (heart disease)
Effective at-home dental hygiene includes more than just brushing after meals; it is the result of maintaining good dental care habits and lifestyle choices on a consistent basis.  These would include:
Brushing for two to three minutes at least twice a day
Replacing a used toothbrush every three to four months
Using products (toothpaste, mouthwash) that contain fluoride
Flossing daily to clean the areas that toothbrushes cannot reach
Eating smart (including Vitamins A and C to prevent gum disease)
Limiting acidic or sugary foods/drinks and snacking between meals
Avoiding smoking or smokeless tobacco (tooth staining; oral cancer)
Wearing a mouth guard or a facial shield when participating in sports
Refrain from using the teeth for any reasons other than chewing food
For individuals who wish to learn more about good at-home dental care, consulting with a dental hygienist from the Family Dental Care clinic in Ottawa may prove to be of value.  This could be a very prudent investment of time for the parents of younger children, who want to establish a foundation of good oral care for their entire family.
Regular Visits to Dental Office Are Important in Overall Dental Care for Families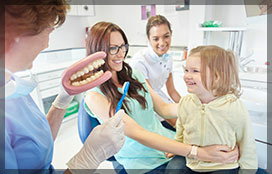 The value of at-home dental care cannot be underestimated or overstated; yet good oral habits are not fully complete unless they include regular visits to a dental care clinic such as Family Dental Care in Ottawa.  And in the same manner that at-home dental hygiene consists of more than just brushing, visit to the dentist include more than just cleaning the teeth.
During a routine check-up, the Family Dental Care dentists/dental hygienists will provide the following:
Teeth cleaning and teeth polishing (latter if/as required)
Gum examinations and dental x-rays (latter if/as needed)
Feedback on overall health of the mouth, teeth, and gums
Suggestions on maintaining/improving at-home dental care
Recommendations for preventative care (for adults/children)
Considerations or potential treatment options moving forward
Answers to general or specific questions about care/treatments
By investing the appropriate time and effort to care for their mouth, teeth, and gums, in conjunction with the professionals from Family Dental Care in Ottawa, individual patients and families as a whole can prevent unnecessary, unwanted, and likely expensive dental treatments while enjoying the many benefits of having a healthy mouth and in retaining their natural teeth.
For further information on the importance of good dental hygiene and the roles of the dental hygienist, the dentist, and the patients/parents in the overall scope of oral care please visit our Dental Hygiene page. 
Looking for feedback and guidance on at-home dental care for yourself and your family? Call the Family Dental Care office in Ottawa today at 613-736-5000 to book a check-up with one of our hygienists.