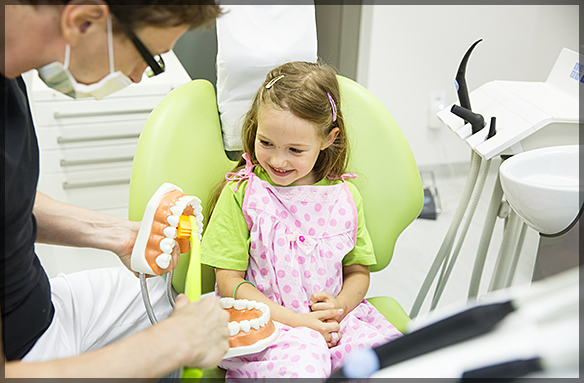 Dentists usually recommend parents to take their child to a dental clinic within 5-6 months after their first tooth comes in or when they are a year old. Most parents do not know what dental care for kids involves. Read on to learn what happens during the first visit to the kid's dentist.
What Happens During Your Child's First Dental Visit?
The first visit is normally short and may not involve extensive treatment. It is an opportunity for your child to meet the dentist in a friendly way. During the exam, the dentist will do the following:
Examine your child's teeth for decay.
Check your kid's bite.
Look for any dental problems involving the jaw and gums.
Properly clean their teeth.
Educate you about dental care for kids and good oral habits.
Answer any questions you may have about oral hygiene and dental problems.
Things Your Dentist May Discuss About Your Child's Oral Health
Good dental hygiene practices and habits for your child's teeth and gums
Ways to prevent cavities or tooth decay
Fluoride needs of your child
Oral habits such as tongue thrusting, thumb sucking, and lip sucking
Teething
Nutrition and diet for healthy teeth and gums
Schedule the regular dental check-ups for your child
What is the Difference Between a Regular Dentist and a Children's Dentist?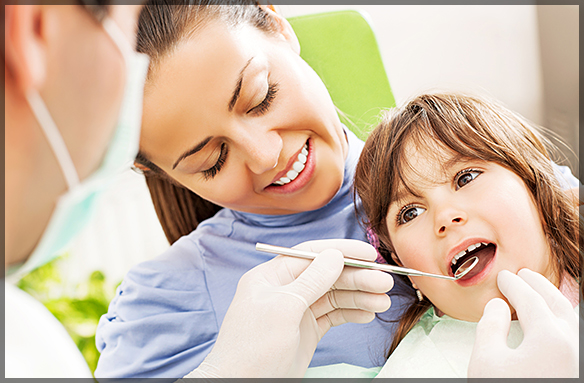 A kid's dentist, also known as a pediatric dentist, usually has at least two or more years of training after their dental school that focuses on the treatment of a child's developing teeth. It also includes training on child behaviour, physical development and growth, and children's dentistry. Although both types of dentists are capable of understanding a child's dental health care needs and assess whether they have any problems, a pediatric dentist has specialized training to take care of children and put them at ease.
When Should Your Child Get Their First Dental X-Ray?
There are no specific rules when it comes to taking a dental x-ray for your children. It is common for kids to have their first x-ray taken before the age of 5 or 6. Some even have it before if their dentist suspects any oral problems. As your child begins to get their adult teeth around the age of 5, x-rays play a significant role to help dentists check and determine if all the teeth are properly growing in the jaw. X-rays also help them to look for bite problems and determine if their teeth are healthy.
Schedule Your Child's Dental Visit with Our Kid's Dentist
At Family Dental Care, we give the utmost importance to dental care for kids. We believe it is essential to take care of your child's oral health from an early age. We have qualified and friendly dentists who can assess your child's oral condition and offer reliable advice.
For more information about our children's dentist service, give us a call at 613-706-1730. You could also fill out our online form to schedule your appointment with our qualified dentists. We will be happy to help you with your child's dental care.