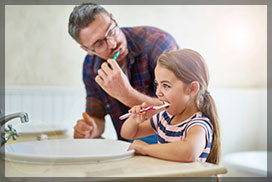 When it comes to making good dietary choices, there is considerable evidence that kids and adults alike are faced with the temptations of sweets and sugars on a regular basis.  Vending machines loaded with candy bars, refillable drinks at movie theatres or fast food establishments, and television commercials that revel in the pleasures of fruit-flavoured chewing gum are but a few of the enticements to which children, and by extension their parents, are exposed each and every day.
While kids can be persistent in their own right with respect to repeatedly pressuring their parents for these so-called treats, the circumstances can be further compounded by peer pressure; if their friends can enjoy chocolates and sodas, why should they being denied?  The answer, although children might not want to hear it or accept it, is straightforward; good dental care/hygiene practices started early in life will help them maintain a healthy mouth, teeth, and gums into and throughout their adult years.
Keeping a child's teeth healthy improves the chances of averting any/all of the following:
Tooth decay/staining
Oral pain or gum disease
Dietary constraints/limitations
The need for smile reconstruction
Unnecessary dental treatments/costs
Here are several pediatric dentist recommendations to help keep a child's teeth healthy:
Start early – gently clean an infant's mouth after feedings
Begin brushing upon the appearance of a child's first tooth
Limit snacks – as the child grows, talk about healthy snacks
Encourage children to rinse mouth with water after snacking
Avoid all types of sticky snacks (enough said about this point)
Begin dentist visits upon first birthday or eruption of first tooth
Eliminate the use of a pacifier by/before the age of three years
Good brushing habits/practices – twice a day; two minutes each
Avoid fluoride toothpastes until the child is able to spit out easily
For parents/guardians of infants and youngsters who would like to learn more about how to keep their children's teeth healthy, they may find it helpful to speak with professionals who have experience in pediatric dentistry, such as the team from Family Dental Care in Ottawa.  This consultation/conversation could prove invaluable in setting a foundation for good dental care that will remain part of their overall daily routine moving forward in life.
Routine Check-Ups by Your Children's Dentist Are Key to their Total Dental Care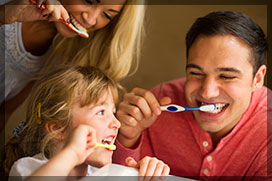 Proper and consistent oral hygiene habits at home are just a part of the total dental care package for children; another vital element is routine dental check-ups. Moreover, these check-ups should be performed by dentists that have experience with pediatric patients.
One such clinic is Family Dental Care in Ottawa; as their name clearly suggests, the staff from Family Dental Care emphasizes the importance of good oral care/dental hygiene for the entire family.  Within this overall umbrella is their attention to preventative dentistry, including routine check-ups beginning at an early age.
During a routine dental check-up, the Family Dental Care dentists and dental hygienists will provide the following services or recommendations:
Teeth cleaning
Gum examinations
Feedback on overall oral care
Suggestions for better at-home dental care
Guidance on possible treatment needs moving forward
Answers to any and all questions about care or treatment
By committing to scheduling routine check-ups, all family members and in particular any young children can enjoy the benefits of a healthy mouth and of their natural teeth while simultaneously avoiding any undue/unnecessary dental treatments and associated costs.
For further information on the scope of routine check-ups performed by the team from Family Dental Care in Ottawa, as well as the potential short-term and long-term value of these visits, please go to our Routine Checkups page. 
It is never too early to begin good oral care and dental hygiene for your children. Call the Family Dental Care clinic in Ottawa today at 613-736-5000 to book a consultation or to schedule a check-up for your child or children.