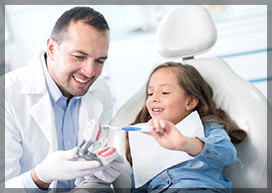 It is no easy task getting the kids to bed. Brushing and flossing can be a battle for young children, often taking time and energy before the toothpaste cap is even off! If you have kids who resist good oral hygiene habits or just want to make your daily routine easier, work with a pediatric dentist for assistance.
The tips below can help make caring for teeth easier on young ones and their parents, and help your children establish strong and consistent health routines from an early age. If you have more questions or would like assistance explaining the importance of good oral health and care, visit our dental office in Ottawa at Family Dental Care.
Easy Ways to Make Your Child's Oral Hygiene Routine More Fun
Between regular teeth cleaning at your kids dentist ottawa, maintain focus on good oral hygiene with these refreshing approaches:
Go Electric: Electric toothbrushes have come a long way and can make brushing a lot easier. Choose one that is small enough for little hands to manoeuver around little teeth. You may be surprised about how enthusiastic kids are when the toothbrush feels more like a tech gadget or tool! Explain how charging works and give them control over their oral hygiene routine.
Play: Making the regular routine more of a fun game can do wonders to encourage children with being more consistent. Keep track of flossing and brushing, set milestones, use a favourite song or timer, or set up a challenge. If kids associate their oral hygiene with more excitement than monotony, they will carry those associations with them into the future.
Give Choice: Start right from the shop and allow your child to choose their own tooth paste, floss, and toothbrush. It can make the process more exciting and interactive if children feel like they are part of the decisions being made from the start. There are lots of flavours of toothpaste and floss available now, so if your child is not partial to mint or has a favourite flavour, having their top pick can make things easier and more enjoyable.
Join Them: Kids learn from parents and often model or mimic their behaviour. If you make oral hygiene a shared time to spend together, it can make it a daily ritual to look forward to rather than dread or dodge. Show them how to properly floss and brush with your own good habits and have a laugh making funny faces while you floss those back molars!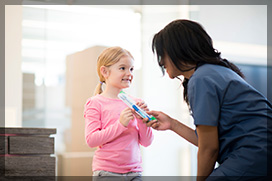 Work with a pediatric dentist in Ottawa to keep track of your children's oral health and development. The team at Family Dental Care welcomes new patients of all ages and are happy to help you establish a lifetime of good dental care habits for your kids. Contact our friendly team to learn more. We offer a wide variety of dental health services for the whole family.
Visit the children's dentist at Family Dental Care. Call us today at 613-736-5000 to book your consultation or teeth cleaning appointment.