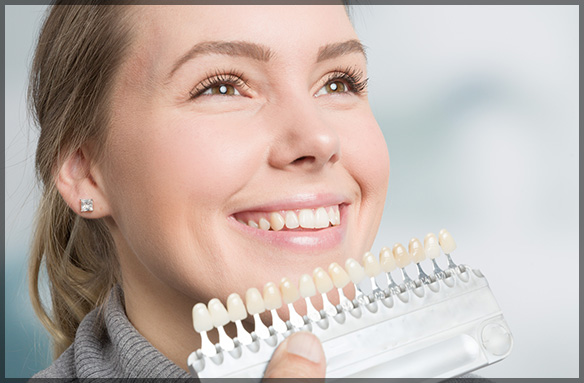 Fixing cosmetic issues & enhancing your appearance with veneers
If you want to improve the shape, colour, or size of your teeth, porcelain veneers are an excellent choice. They are a versatile cosmetic dentistry option that can help you achieve a beautiful smile in a short period. Also, when perfectly bonded to the surface of your teeth, veneers can hide a range of imperfections. Read on to learn more about the process and how they can help you.
Porcelain veneers can address the following aesthetic problems:
Tooth discolouration
Misalignment
Gaps between teeth
Crooked or worn teeth
Irregularly shaped teeth
Now that you know what issues veneers can be used to address, let us discuss the process of this cosmetic dentistry option.
Natural-Looking Porcelain Veneers
When it comes to selecting veneers, there are a variety of considerations to ensure that their appearance matches the adjacent teeth. It helps to know that when porcelain is sculpted and treated correctly, it can look like natural teeth. This is why it is the ideal material for veneers. High-quality materials are typically used to fabricate strong and natural-looking veneers. This helps to ensure they meet your needs and last long.
The Process of Installing Porcelain Veneer
When it comes to cosmetic dentistry, most procedures require you to visit the dental clinic multiple times to ensure you get the desired results with minimal discomfort. For porcelain veneers, your dentist will typically adhere to the following steps:
Aesthetics
During your first visit, your dentist will consider the appearance of your teeth and facial symmetry and discuss your needs to create personalized veneers. It is the right time to ask them any questions you have about the procedure. This will help them determine the size, shape, and colour of your veneers according to your preferences.
Tooth Impression
After deciding the specifics of the veneer that meets your needs, the next step will involve taking an impression of your teeth. They will send it to the lab to make your veneers according to the required measurements. Also, they will prepare your teeth to support them.
Placement
Once your veneers are available, your dentist will temporarily place them to ensure that they look right with your natural teeth. If there are any imperfections, they can be sent back to the lab to make the necessary changes. Then, they will permanently bond the veneers to your teeth.
Understanding how porcelain veneers work can help you make an informed decision. And now that you are aware of the procedure, consult with a reliable specialist to help you.
We Provide All Types of Cosmetic Dentistry Services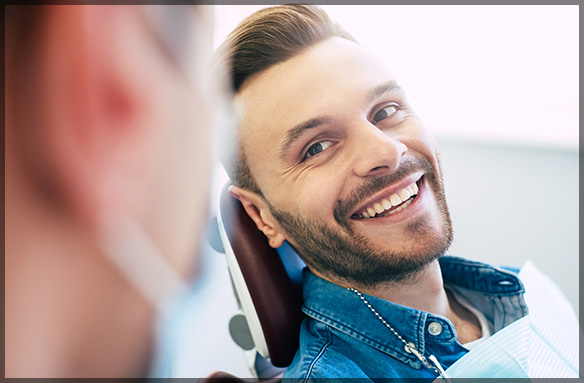 At Family Dental Care clinic, we have the expertise and resources to provide the best services for cosmetic dentistry in Ottawa. We have a team of qualified dentists to understand your needs and recommend suitable options to help you have a beautiful smile.
If you are looking to get porcelain veneers to rejuvenate your smile, we can help you. To learn more about them and receive personalized treatment recommendations, get in touch with us by calling 613-736-5000 (South) or 613-627-3500 (Downtown). You could also book an appointment by filling out our online contact form.
Related: