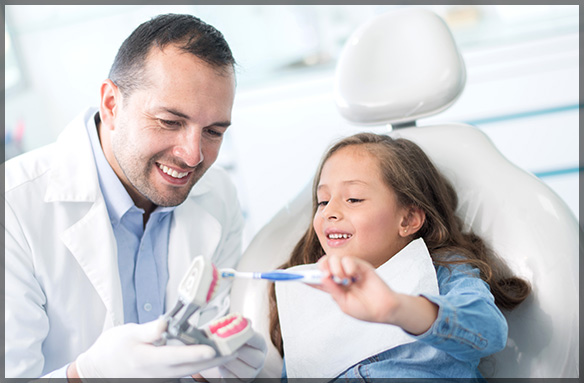 Did you know that poor oral care can cause diseases, infections, and other tooth problems in children?
According to qualified pediatric dentists, developing good dental habits is an essential part of taking care of your kid's teeth. Read on to learn what to consider when it comes to dental care for kids.
Improved Oral Health & Dental Hygiene for Kids
Brushing and Flossing

Oral hygiene for kids should begin when they are young. It helps to keep the following in mind:

Have a pediatric dentist show you the right way to brush your child's teeth.
Use a child-size toothbrush with soft bristles when they are 1-2 years old.
Brush their teeth at least twice a day.
Use a regular-sized toothbrush if your child is 7 or 8 years old.
Remember to change the brush when the bristles look worn or every 3 – 5 months.
Teach your child to floss properly.
Use floss picks that come strung on a handle.

Importance of Fluoride

Fluoride can help reduce the chances of cavities. It also helps to make your kid's teeth healthy by strengthening the tooth enamel. If your town does not add fluoride to the water, talk to your kid's dentist about ways to use fluoride at home. However, you must ensure that your child does not swallow the fluoride mouthwash or toothpaste.

Understanding Cavity Formation

Cavities are holes that form in the teeth. They occur due to increased bacteria build up in the mouth. Excess consumption of sugary foods and beverages is the leading cause of tooth decay. They are quite common in children because it is more difficult to brush their teeth. This is why dental care for your kids must include teaching them proper brushing techniques.

Diet Considerations

It helps to avoid chocolates, candies, fruit juices, soda, and sweetened drinks. Reduce their consumption of sugary snacks and beverages between meals. Also, make sure your child brushes their teeth after consuming anything sweet. However, wait an hour to brush after drinking pop as the acids can make teeth vulnerable to damage from brushing.

Dental Safety & Precaution

Safety is an essential part of dental care for kids. If your child plays sports, make sure they wear a mouthguard to protect their teeth. This helps to protect them from any oral injuries. Also, talk to a pediatric dentist to get a customized mouthguard, if necessary.

The Transformation from Baby Teeth to Adult Teeth

Children tend to lose their baby teeth between 6 – 12 years of age. It helps to talk to a children's dentist during this process to discuss any potential oral problems. Some kids may need special dental care and treatment, such as braces.
Get the Right Oral Care for Your Kids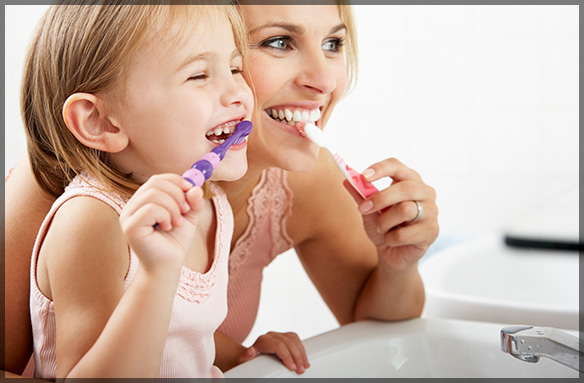 At Family Dental Care Clinic, we care about your oral health and offer comprehensive dental services for patients of all ages. We have a skilled staff and team of qualified dentists in Ottawa to help you maintain healthy teeth and gums. We believe in providing complete satisfaction and support. We use safe procedures for all types of dental problems.
For more information about dental care for kids, please call us at 613-736-5000 (South) or 613-627-3500 (Downtown). You could fill out our online form to schedule an appointment.
You Might Also Want To Read: